Malero-Guitare.fr


the website of online guitar lessons by Malero
New course: "Englishman In New York" by Sting
IIt is a long time I was looking for a way to play this song in the spirit of its original recording, when I found an unplugged version by Sting himself and alone, playing the guitar and singing. Here is exactly what he was doing… 
Look at the courses
Hi everyone and welcome on Malero-Guitare ! This online guitar lessons website is dedicated to the techniques of the acoustic guitar through the study of song accompaniments. Here you will find all you need to learn and to improve yourself by working on my theory lessons and the studies of songs I create by interest of the playing skills used, and the levels of difficulty, from beginners to advanced players. The site is composed of several sections:
In the Courses section is the list of all the availables courses. These video courses are exclusively visuels, with 2 close up views of the 2 hands. The theory courses and the exercises help you to begin and to have a good understanding of the rhythm and the harmony. The practice is made through the studies of songs where I invite you to work on my personal arrangements.
The Tab section allows you to access to the course materials in the form of Guitar Pro and Pdf tablatures by signing up to the "Tab! Access".
The Pack section allows you to download the video courses and to sign-up to the "Full Pack".
In the Demos section are grouped all the demos related to the studies of songs.
The Members Area allows you to login to access all my online courses as well as to download the packs and to get the tablatures.
---
Presentation of the site and the courses
In this video, I give you some explanations about the site, the courses concept and about my approach of the guitar : who, when, where, why et how ? Here are all the answers !
Previous course : "California Dreamin'"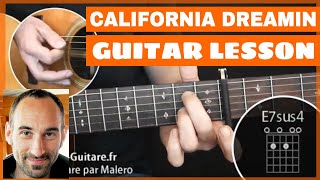 Here is another great tune from the 60s-70s :-). Except the intro that requires a bit of notes by notes technique, you need nothing more than a few simple chords and a good strumming to play this legendary song. I chose to make the F chord with 4 strings, but you can make the barre chord if you are more comfortable. For the rhythm, there is just a syncope to be placed after the E7sus4
. http://www.malero-guitare.fr/courses/studies/california-dreamin/
---
Thanks you to give me ideas of new lessons in the courses requests page.
For any question, message or comment, you can use the comment boxes or send me an e-mail at malero@malero-guitare.fr.
If you encounter troubles with the site, look at the Faq.
Have a good time and a good guitar experience on Malero-Guitare